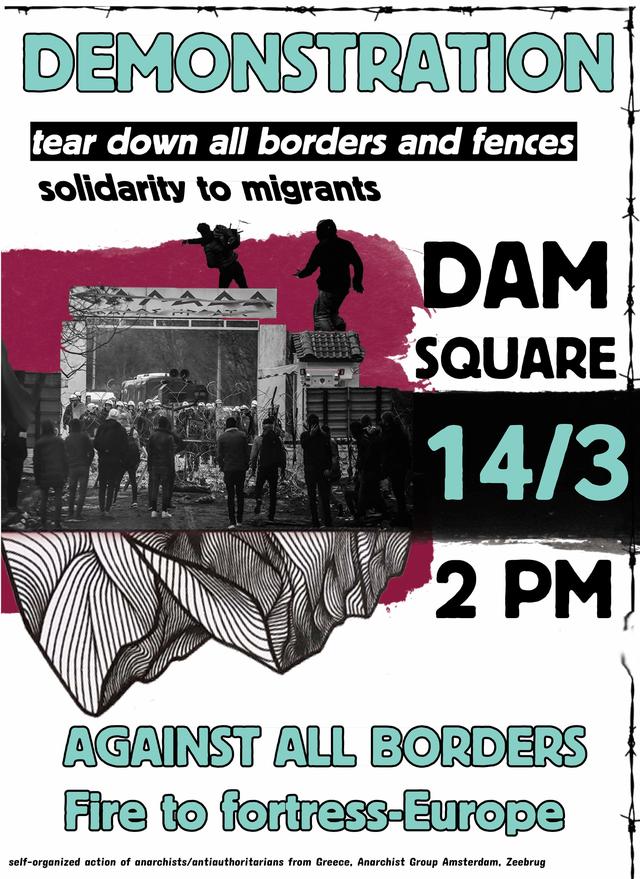 Oproep, overgenomen van https://www.indymedia.nl/node/47516
Zie ook de Facebook-event, https://www.facebook.com/events/641685766651370/
AFGELAST!
DEMONSTRATIE tegen de oorlog tegen migranten in het Griekse grensgebied
Zaterdag 14/3, 14.00 uur
Dam, Amsterdam
[English below]
De EU, de Turkse en de Griekse staat hebben besloten om met mensenlevens te spelen. Vele immigranten proberen via de grenzen van Turkije naar Griekenland en Europa over te steken, maar worden door Griekse troepen gewelddadig geblokkeerd. De Griekse regering heeft met de steun van de EU besloten de grenzen te sluiten en houdt iedereen die asiel aanvraagt ​​tegen om het land binnen te komen.
Frontex en de Griekse kustwacht voorkomen op gewelddadige wijze dat boten de eilanden bereiken, terwijl er een kind is verdronken. Ngo's en journalisten die over de incidenten op de eilanden berichtten, zijn aangevallen door nationalisten. In het grensgebied verzamelden het leger, politie, gewapende burgers en fascisten zich om immigranten te blokkeren door traangas en zelfs kogels af te vuren. Eén immigrant is dood en er zijn meerdere gewond geraakt.
Tegelijkertijd leven de immigranten die al in Griekenland zijn onder erbarmelijke omstandigheden in kampen. De EU heeft besloten om 700 miljoen euro aan de Griekse staat te verstrekken, terwijl veel geld wordt besteed aan militaire en politieoperaties. Al dit geld, en nog veel meer daarvan in de zakken van degenen die aan de macht zijn en verdienen aan de uitbuiting van onze levens, kan worden gebruikt om immigranten te helpen zich in Europa te vestigen en te leven.
Wij zijn boos omdat regeringen met de leven van mensen spelen. Wij willen immigranten in onze buurten, onze scholen, onze werkplekken en in onze sociale strijd. De aarde is van niemand, we eisen bewegingsvrijheid!
TEGEN FORT EUROPA
VERNIETIG DE CONCENTRATIEKAMPEN
OPEN DE GRENZEN EN STOP DE OORLOG OP MIGRANTEN
SOLIDARITEIT ZAL WINNEN
DEMONSTRATIE
Zaterdag 14/3, 14.00 uur
Dam, Amsterdam
Anarchistische groep Amsterdam
aga@agamsterdam.org
CANCELLED!
DEMO in Amsterdam against the war on migrants in the Greek border area
The EU, the Turkish and Greek state decided to play with human lives. Several immigrants try to pass the borders from Turkey to Greece and Europe, but are being blocked violently by Greek forces. The Greek government decided to close the borders with the support of the EU and keep anyone seeking asylum from getting in the country.
Frontex and the Greek coastguard violently prevent boats from reaching the islands, while one child has drowned. NGOs and journalists covering the incidents in the islands have been attacked by nationalists. In the land borders, the military, police forces, armed civilians and fascists gathered to block immigrants firing tear gas and even bullets. One immigrant is dead and several wounded.
At the same time, those immigrants that are already in Greece live in camps in horrible conditions. The EU decided to provide 700 million euros to the Greek state, while lots of money is spend for military and police operations. All this money and much more that's in the pockets of those in power who get richer by exploiting our lives, could be used to help immigrants establish and live in Europe.
We are angry because governments play with people's lives. We want immigrants in our neighbourhoods, our schools, our working places and in our social struggles. The earth does not belong to anyone, we demand freedom of movement!
AGAINST FORTRESS EUROPE
DEMOLISH THE CONCENTRATION CAMPS
OPEN THE BORDERS AND STOP THE WAR ON MIGRANTS
SOLIDARITY WILL WIN
DEMONSTRATION
Saturday 14/3, 14.00
Dam square, Amsterdam
Anarchist Group Amsterdam
aga@agamsterdam.org
Tags: Amsterdam, demonstratie, vluchtelingen